The weather has been so cold this year that the Tulips have not bloomed for the Keukenhof parade this year, so many flowers were imported. Delta is offering $100 off flights to Amsterdam when you book by the 25th Now you can fly NY JFK to Amsterdam round trip for $867 - Book now & enjoy $100 off most U.S. ✈ Amsterdam flights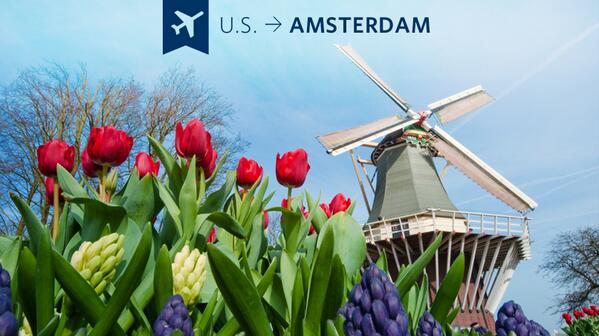 On Tuesday, my American Airlines flight was delayed due to computer problems that led to the FAA grounding all the carrier's flights. Fortunately, it was fixed within a couple of hours. I was relieved to see a Tweet from ‏@AmericanAir "Our systems have been fully restored, however we expect continued delays & cancellations"
But, - let me prepare you with tips for lots of up-coming Flight delays:
In most instances, passengers are given little notice of delays but American Airlines and United have good Twitter teams, so check Twitter for information and then call your ELITE line or use their app. to rebook as fast as you can, since those who act quickest in response to a delay tend to get the best service from the airlines. You can do this while in line to speak to a gate agent, or can bypass the gate agent if you can sort it out before you get to the top of the queue. Elite members get ahead of other passengers in rebooking. Most airlines have issued waivers that let passengers alter flight plans with no fees, due to bad weather, but when you want to rescheduled travel, it definitely pays to be loyal and receive ELITE priority. I'm glad that American Airlines is emerging from bankruptcy and in April 2013, had their 1st profitable first quarter since 2007.
The Federal Aviation Administration is warning that air traffic controller furloughs, due to the sequester will begin on Sunday the 21st April and will affect up to 7,000 flights daily .
Kudos To Nick Calio, the CEO of airlines for America and he says that "the furloughs are illegal, irresponsible and damaging. Most of all they are totally unnecessary. There are plenty of other places the FAA could cut but they are playing Political games. The airline industry is suing FAA and DOT because of the Furlough. Seeking to stop furloughs in Federal court Wants controllers deemed "essential personnel" The TSA is not furloughing anyone but they should!
Lee Moak, president of airline pilots group, accused the Obama administration of using the issue as "political football" in its battle with congressional Republicans over the budget. Obama has made choices that appear designed to have the greatest possible impact on the traveling public," he said. Holding passengers ransom to allow the Democrats to continue spending more money that the Country has, is not honest.
Delta Airlines should also be able to protest to the Dept. of Transportation. Delta is investing more than $3 billion in airport facilities and global products, services and technology to enhance the customer experience in the air and on the ground.
Delta already offers more flat-bed seats with direct-aisle access than any other U.S. carrier. The new A330 BusinessElite seats, are approximately 78 inches in length and 20 inches wide. The seats will be arranged in an angled .Delta is beginning installation of Full Flat-Bed Seats on their remaining International Fleet Type, Airbus 330 Aircrafts. They are upgrading their Airbus A330 fleet – the final fleet type to receive the modification of the full flat-bed seats in the BusinessElite cabin and new "slim line" seats, which offer more personal space throughout the Economy cabin. The first modified A330 operated its first flight from Atlanta to Detroit and will also operate from Detroit to Amsterdam . There are 32 A330s in the Delta fleet.
"BusinessElite"
Each A330 will have 34 BusinessElite full flat-bed seats providing direct-aisle access for every customer, electronic seat controls with adjustable lumbar support, a 110-volt universal power outlet, USB port and an adjustable personal LED reading lamp. Each seat offers a 15.4 inch widescreen video monitor with instant access to 350 films, 130 hours of television programming, nearly 100 hours of premium selections from HBO and Showtime, 27 games, more than 4,500 digital music tracks and a real-time flight tracker. On-demand streaming entertainment to personal laptops and tablets will also be available on board this summer. Full flat-bed seats will soon be offered throughout their international fleet.
Thirty-five Boeing 767-300ER aircraft with new full flat-bed BusinessElite seats are currently flying, with the entire fleet of 58 aircraft scheduled for completion by the end of 2013. The full international widebody fleet of more than 140 aircraft will be complete by mid-2014
If you are not upgraded to BusinessElite, the next best is "Economy Comfort", which includes "slim line" seats offering more personal space, up to four additional inches of legroom for 35 inches of seat pitch and 50 percent more recline. Delta's A330 aircraft each have 32 Economy Comfort seats with six-way adjustable headrests, a 110-volt universal power outlet and USB port. The product is similar to the upgraded Economy services currently available on flights operated by Delta's joint venture partners Air France-KLM and Alitalia and is located in the first few rows of the Economy cabin on more than 160 Boeing 747, 757, 767, 777 and Airbus A330 aircraft. In addition to more legroom and recline, customers seated in Economy Comfort will enjoy priority boarding and complimentary spirits throughout the flight. These benefits are in addition to Delta's standard international Economy class amenities, including complimentary meals, beer, wine, entertainment, blankets and pillows.
As an Elite member, ECONOMY COMFORT is the upgrade from regular Economy, but Delta has also made changes to the Economy cabin to include more comfortable "slim line" seats,, providing customers with additional knee room. They call it knee room because you can't seriously claim that there is room for you legs. I assume that this clears them legally. All Economy seats feature a headrest with adjustable wings, height and tilt, USB power and a nine-inch touch screen featuring personal on-demand entertainment and the same extensive library of entertainment choices as those offered in BusinessElite and Economy Comfort.
Installing full flat-bed seats on Delta's widebody international aircraft is a major component of Delta's $3 billion customer experience investment. This investment also includes Delta's new Terminal 4 at New York-JFK, opening this May, and Maynard H. Jackson Jr. International Terminal in Atlanta, which opened in April 2012. Delta is also spending more than $100 million to expand, renovate and consolidate terminals C and D at New York-LaGuardia Airport. Additionally, customers will see Delta's investment in its more than 50 Delta Sky Clubs throughout the system, power poles at dozens of airports, mobile apps which include features such as baggage tracking, and Wi-Fi on more than 800 aircraft.
Delta was named by Fortune magazine as the most admired airline worldwide in its 2013 World's Most Admired Companies airline industry list, topping the list for the second time in three years. With an industry-leading global network, Delta and the Delta Connection carriers offer service to 313 destinations in 57 countries on six continents. Headquartered in Atlanta where KLM is also as they have been working together since the Delta acquisition of Northwest Airlines in 2008. Delta is a founding member of the SkyTeam global alliance and participates in the industry's leading trans-Atlantic joint venture with Air France-KLM and Alitalia. I travel to their hub in Amsterdam often and will soon travel to Atlanta to work on a project with the KLM GM.